---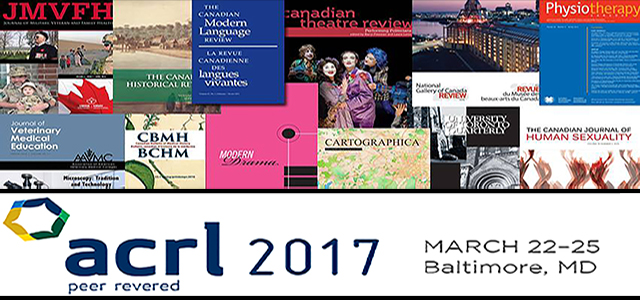 UTP Journals at the ACRL 2017 Conference (22 to 25 March)!
Visit us at

Booth 1004

and learn more about our great collection of journals!
---
Want to hear more about what we're up to? Sign up for our email newsletters! Subscribe to our journal-specific lists to receive updates on your favourite scholarly journals including but not limited to new issue alerts, upcoming events, calls for submissions, and exclusive discounts. http://bit.ly/UTPNewsletters.
ARK – Author Resource Kit
ARK is a compilation of advice, guidelines and valuable information for authors as they are choosing where and how to submit their work for publication. ARK contains information on the publication process, how/where/what to submit for publication, promotion, how to contact UTP Journals and much more. This resource kit also includes links to free publishing advice from the pages of the Journal of Scholarly Publishing. » ARK is available free online.